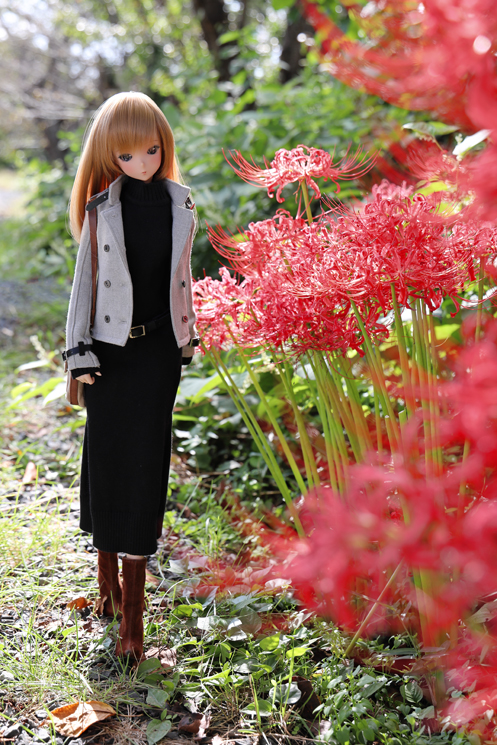 日本語は英文の下に続きます。
I went to Yamagata and saw red spider lily in bloom, so I took this picture with Chitose-chan.
By the way, I would like to talk a little about the title of this blog, "Development of MarukoHalu items".
In this picture, Chitose is wearing a MarukoHalu item, a combination of a one-piece dress and a jacket.
The dress was released in 2021 and the jacket is an item released in 2023.
and so on. The clothes are a combination of items that were released in the past and items that were released recently.
MarukoHalu's item development is not limited to the past, present, or future, and we value the ability to combine items in a timeless manner.
Although we occasionally have some irregular items, most of our items are timeless.
The items that we will create in the future are surely also timeless items.
We will continue to create MarukoHalu items that can be enjoyed by users with their own ideas and sense of freedom for a long time to come.
I apologize for being a bit stiff.
See you soon. 🙂
山形に行ったら彼岸花が咲いていたので千歳ちゃんと一枚。
ところで、今回のブログタイトル「MarukoHaluアイテムの展開について」を少し語りますね。
この写真で千歳ちゃんが着ている服はMarukoHaluアイテムのワンピースとジャケットの組み合わせです。
ワンピースは2021年に発売、ジャケットは2023年に発売したアイテムです。
といった感じで、過去に発売したアイテムと最近発売したアイテムを組み合わせて着せています。
MarukoHaluのアイテム展開は過去、現在、未来に囚われることなく、タイムレスで組み合わせができることも大切にしています。
イレギュラーなアイテムもたまにはありますが、多くはタイムレスなアイテムとして展開しています。
未来に生み出すまだ見ぬアイテムも、きっとタイムレスなアイテムです。
ユーザーさんの自由なアイディアやセンスで末永く楽しんで頂けるようなMarukoHaluアイテムであり作り続けようと思う次第です。
ちょっとお硬いお話となり失礼しました。
ではでは、またー。 🙂