MENU
Payment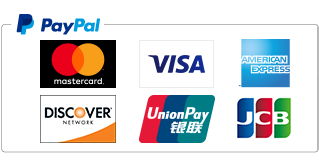 We accept payment by credit card, PayPal only.
Please note that you are required to register with PayPal when paying by credit card.
Shipping
Items will be delivered via FedEx or EMS.
EMS is only applicable when requested by users who have ordered in the past.
FedEx delivery to Russia and Ukraine is suspended, sorry until EMS resumes.


Shipping Cost
FedEx charge from Japan.
Asia
¥2,300(JPY)
Bangladesh, Cambodia, China, Hong Kong, India, Indonesia, Macao, Malaysia, Singapore, South Korea, Taiwan, Thailand, Vietnam
North America
Central America
¥2,400(JPY)
America, Canada, El Salvador, Jamaica, Panama
Europe
¥2,400(JPY)
Austria, Belarus, Belgium, Bulgaria, Croatia Czech Republic, Denmark, England, France, Estonia, Finland, Germany, Greece, Hungary, Iceland, Ireland, Italy, Latvia, Lithuania, Netherlands, Norway, Poland, Portugal, Republic of Malta, Romania, Slovakia, Spain, Sweden, Switzerland
South America
Africa
¥3,600(JPY)
Argentina, Brazil, Chile, Colombia, Uruguay, Algeria, Ecuador, Egypt, Ghana, Mauritius, Tunisia
Australia
¥4,200(JPY)
Australia
New Zealand
¥5,000(JPY)
New Zealand
Middle east
¥2,900(JPY)
Kingdom of Saudi Arabia, Bahrain, United Arab Emirates, Kuwait, Jordan, Iraq, Israel, Qatar, Turkey
Custom and Taxes
Please note that the recipient is responsible for customs fee and import taxes assessed in the destination country.
The price shown on our site includes consumption tax in Japan.
No tax-refund service is available.
Return & Refund Policy
Thanks for shopping at Marukohalu.
If you are not entirely satisfied with your purchase, we're here to help.
Return Policy
In any case of return or exchange, please send us your request upfront under "info@marukohalu.jp" within 7days after receipt, with reference in the subject title ' Reference or Exchange'.
In the event that a return is requested by the customer, the shipping fees for returning and exchange are paid by the customer.
However, in case the product is defective or a wrong item has been shipped, we will exchange the product as soon as we will receive it in return. Shipping fees are paid by Marukohalu.
If there is no replacement item available, we will refund the total amount.
Please note returns or exchange can only be accepted under the following conditions:
You send us your request of return or exchange by email within 7 days from the date you received it.
Your item must be unused and in the same condition as you received it.
Your item needs to have the receipt or proof of purchase.
Refund Policy
If your return is approved, we will initiate a refund to your credit card or PayPal.
Shop Information
MarukoHalu
Representative: Iwao Ohtake
Address:C-105, Corpo YUU, 3-23-23, Kamioumi, Chuo-ku, Niigata-shi, Niigata 950-0973, Japan
Business days: Monday-Friday
Mail:info@marukohalu.jp
URL:https://marukohalu.jp.